Delhi News Live Updates (January 25): Several students, who gathered at the JNU Students' Union office for a screening of the first episode of the two-part BBC documentary 'India: The Modi Question' Tuesday, claimed the varsity administration cut power and internet to stop the event. The power that went off at 8.30 pm, barely half an hour before the union planned to screen the documentary which was pulled down by YouTube and Twitter on orders from the Centre, was restored only after midnight after a group of students, as a mark of protest against what they said was a deliberate blackout, watched parts of the documentary on their phones and laptops.
The students, meanwhile, also staged a protest after stones were allegedly thrown at them. Some alleged that the attackers were members of the ABVP, a charge the RSS-affiliated student body denied. Later in the night, raising slogans of "Inqlaab Zinadabad" and against the JNU administration, the protesting students marched to the Vasant Kunj police station to lodge a complaint against the "stone pelters".
Students' Union president Aishe Ghosh said: "JNU held screenings of movies like The Kashmir Files but we never got an advisory from the administration. This is happening for the first time." On Monday, the university administration dissuaded students from going ahead with the screening. In a statement, it had said: "No prior permission for this event has been taken from the JNU administration. This is to emphasise that such an unauthorised activity may disturb peace and harmony of the campus."
While hearing a batch of petitions seeking registration of an FIR against political leaders for alleged hate speeches made prior to the 2020 Northeast Delhi riots, the Delhi High Court Tuesday asked the police to inform whether these speeches were also the subject matter of pleas pending before the Supreme Court.
A division bench of Justice Siddharth Mridul and Justice Talwant Singh asked advocate Rajat Nair appearing for the Delhi Police to obtain instructions on the matter and listed the batch for hearing on February 2. Read more
Lieutenant Governor Vinai Kumar Saxena Tuesday ordered the Delhi Development Authority (DDA) to redevelop the Signature View Apartments complex at North Delhi's Mukherjee Nagar and rehabilitate the residents in the interim as the complex is structurally damaged.
Saxena, L-G House officials said, has taken "serious note" of lapses that resulted in the building becoming structurally unsafe in just about 10 years of its construction. He also ordered the immediate initiation of criminal proceedings against the contractors, builders or construction agencies involved.
The L-G ordered a vigilance inquiry to identify all officers and government officials responsible for alleged lapses and misconduct in the construction within 15 days and the initiation of criminal action against defaulting officials. Read more
Not enough youth registered to vote, a preference for EVMs over ballot paper, and a belief that there should be a retirement age for politicians as well as minimum educational qualification to contest the polls. These are some of the findings of the 'Young Voters' Awareness and Opinion Survey 2023' conducted by the Lokniti programme of the Centre for the Study of Developing Societies (CSDS), Delhi.
The survey was conducted between January 16 and 20 among 761 students of Delhi University and affiliated colleges in the age group of 18-34. January 25 is observed as National Voters' Day in the country. About the next Lok Sabha election schedule, seven out of ten knew that the next national elections will be held in 2024 (table 1). Older students and those doing post-graduation were more likely to know the schedule of the next Lok Sabha elections. It was also found that humanities students (72%) were more aware of the schedule of the next Lok Sabha elections than science (65%) and commerce students (56%).
In the survey, 55% of the surveyed students were registered as voters. However, we found that more young men were enrolled in the voter list than women (table 2). It was also observed that the 18-19 year-olds and undergraduates were less likely to be registered voters as compared to older students. Read the entire report prepared by Team Lokniti CSDS here


While inaugurating the 'online e-inspection' software facility in the Delhi High Court, Chief Justice of India Dr D Y Chandrachud emphasised that technological advancements made in the judicial system should be designed to meet the ends of all users.
At the event, the CJI said the Delhi HC has always been at the forefront of digitisation. He said that although the Supreme Court lays down the law for the entire country, it is the Delhi High Court which has been way ahead in terms of facilities provided to the judges as well as litigants and lawyers. He added that the new software was one such aspect of modernisation of court through information technology, which the HC had achieved. Read more
Held after a two-year gap because of Covid, the 'At Home' hosted by Delhi Lieutenant Governor V K Saxena and his wife Sangita Saxena, saw tensions between him and Chief Minister Arvind Kejriwal take a backseat for a few minutes.
The 'At Home', which is a traditional meet and greet held before Republic Day and Independence Day, was also attended by Delhi Lok Sabha MPs Gautam Gambhir, Manoj Tiwari, Ramesh Bidhuri and Parvesh Verma; Delhi minister Imran Hussain; several MLAs; representatives of Foreign Missions in India, and bureaucrats.
L-G Saxena and Kejriwal's Delhi government have been at loggerheads with each other since the former took charge early last year. Over the past few weeks, tensions have escalated, with Kejriwal accusing Saxena of taking decisions on matters that fall under the purview of the elected government, a charge denied by the L-G Office. Read more
Several students, who gathered at the JNU Students' Union office for a screening of the first episode of the two-part BBC documentary 'India: The Modi Question' Tuesday, claimed the varsity administration cut power and internet to stop the event.
JNUSU president Aishe Ghosh said: "JNU held screenings of movies like The Kashmir Files but we never got an advisory from the administration. This is happening for the first time." She added that whenever there was a power cut, the campus community was "notified" by the administration "but this time we got no notice."


The Delhi High Court on Tuesday sought response from the makers of film "Faraaz" while taking up a plea moved by the mothers of two girls who died in the 2016 Dhaka terror attack at a cafe, which sought stay on the film's release.
A division bench of Justice Siddharth Mridul and Justice Talwant Singh asked the counsel for the mothers to establish in law that the release of the film is violating their privacy, which needs to be protected, and "whether films inspired by true events can be injuncted at all".
"You have to inform us what is your right in law to seek injunction on release of the film. You'll have to be more direct. If we don't injunct, the appeal and the suit itself becomes infructuous," the court told senior advocate Akhil Sibal, who represents the mothers. The court also said an order of injunction for a commercial film cannot be passed lightly. Read more
#InPics | JNUSU's screening of BBC documentary on 2002 Gujarat riots disrupted as campus plunges into darkness; students stage protest#JNU #JNUSU #BBCDocumentary#ModiDocumentaryRow #GujaratRiots2002
Follow Delhi News Live Updates here:https://t.co/6X0s5C9edu pic.twitter.com/cJxxP5cTb0
Aishe Ghosh, president of the Jawaharlal Nehru University Students' Union, says she is going inside the police station to lodge a complaint regarding injuries. The students are still protesting outside a police station in Vasant Kunj after marching there and alleging that stones were thrown during the showing of a prohibited BBC documentary on PM Modi.
We will go inside the police station and file a complaint. After that, we will return to campus. We have been told that electricity in the campus has been restored. We will confirm this and head back after filing a police complaint," said JNUSU president Aishe Ghosh.
#LIVE | JNUSU president to lodge police complaint
For more, follow live updates:https://t.co/6X0s5C9edu pic.twitter.com/hEKcwnJFUk
The protesting students are being addressed by Aishe Ghosh, president of the Jawaharlal Nehru University Students' Union. She alleged that ABVP goons remain on campus. Contacting the police is the only option to de-escalate the situation. She invites students who have been injured to come forward and speak with police.


Plans by the Jawaharlal Nehru University Students' Union to screen on campus the BBC documentary titled 'India: The Modi Question' ran into trouble Tuesday night as electricity in the university went off around 8.30 pm, roughly half an hour before the planned event, and students who opted to watch the film on their phones or laptops were pelted with stones.
JNU V-C Santishree Pandit and university Rector 1 Satish Chnadra Garkoti did not respond to repeated calls and SMSes seeking a response on whether electricity on campus had deliberately been disconnected. The deputy registrar, Ravi Kant Sinha, picked up the call but said he is not authorised to comment.
"We have been told by the JNU V-C and the university Registrar that it's a massive power failure which has affected one-third of the campus. There is no deliberate attempt to cut power," claimed an officer in the Education Ministry.
While the power went off around 8.30 pm, those who had gathered outside the students' union office decided to screen the documentary on their phones and laptops "as a mark of protest" a little past 9 pm. At the time of reporting, streets and buildings on campus were still in the dark, with a professor saying even the quarters where teaching staff reside had no electricity. The professor called the situation "uncanny". Read Full Report


There has been no electricity at the JNU campus since 8.30 pm. At 9 pm, the JNUSU was supposed to organise a screening of the BBC documentary titled 'India: The Modi Question.' The administration had told students not to screen it.
CJI D Y Chandrachud began his address: "Today's innaugral completed the digitisation loop.
The Delhi High Court is way ahead of the Supreme Court in terms of the facilities provided to the judges as well as to lawyers and litigants.
We have been following the Delhi HC in many ways. I can borrow the intellectual capital of the Delhi HC in the Supreme Court.
It is part of my mission… our work in the SC is to create a new band of judges who would be looking for the future of the Indian judiciary.
"The need is to open up to new ideas. The ideas we get from younger judges of HC across india are a cause for optimism. Technological innovations in judicial system should be designed to meet all its users.
The first paperless court was established in Delhi itself in 2009. The success of any innovation depends on the ability to collaborate with all stakeholders.
The e-inspection software has been redeveloped to allow its use by advocates and litigants who are crucial stakeholders of the system.
"Inspection can happen from any location saving time. It is a step in a sustainable step towards transformation of our judicial system.
It is essential to ensure that such online services are compatible by most browsers and are compatible with most devices.
Some of the new technological initiatives adopted since november last year- a new justice mobile app, available to every stake holder, free access to entirety of the record on information which is filed in the court.
SC reports have been transformed into the e-SCR. It has an elastic search facility. We have also made the digitised files compatible with search engines.
Next is having neutral citations across India.
"They ensure that irrespective of law reports used there will be one form of cititation across all courts. I have already written to the Chief Justices of the HCs so that neutral citations can now be provided by HC across the country.
He also mentioned the launch of e-filing in SC which has now been upgraded."
"We have also launched an online RTI portal. I would request all HCs to have its own online RTI portal so that we make the process of disclosure of information about our courts streamlined and accessbile," CJI Chandrachud said on RTI portals.
He mentions translation of language of judgements in regional languages. A committee has been constitued chaired by SC Justice A Oka, wherein SC judgments will be translated into Hindi Gujarati Tamil and Oriya.
"We must understand that the language that we use namely English is not comprehensible, Particularly in its legal avatar to 99.9% of our citizens", CJI says. He says that access to justice cannot be meaningful unless the citizens are able to access and understand in a language which they speak and comprehend the judgments we deliver whether in HC or SC.
We are in the process- a software called Suvas, we are creating a team which will use machine learning to translate SC judgments in Indian languages. We are now tapping into talent of judicial officers as well to verify whether translation is done correctly.
He concluded by congratulating members of the officers of the Delhi HC and the IT Team who developed the software. "Please continue to do what you are doing, you are being watched and followed as well," CJI tells the members on the dias.
Senior advocate Mohit Mathur, chair of the executive committee of the Delhi High Court Bar Association gave the note of thanks.
Chief Justice of Delhi HC Satish Chandra Sharma giving the key note address: CJI has been a pioneer in India's story of technological advancement in law. Even during covid times as chair of e committee in SC guided as to e hearings as an effective mode of hearing.
"With the launch of e-inspection today we are launching into digital revolution of law," he said.
"We learned to embrace new technology in full measure only after the crisis. Technology instills public faith in the judicial process," he said.


A Delhi court has allowed the extradition of Rajvinder Singh to Australia after he gave his consent for extradition to the court.
Singh is accused of killing Toyah Cordingley on October 21, 2018, when she was walking alone with her dog at Wangetti beach, north of Cairns, in Queensland state.
"The IT committee has taken a conscious decision that we are not going to live stream until we have complete wherewithal. Because a lot of my colleagues have shared the concern that you have live streaming and its on a platform not controlled by us…clips are made and there are all types of comments tagt judges have to face. We are moving in the right direction," said Justice Shakdher.
"There will be a day not to far where we can actually operate from a remote location," he added.
"Under the chief justice of india we have worked according to his credo- an e system which is accessible and inclusive. Policy guidelines are framed by the CJI.
"This has transcended from the work done by the CJI in other committees of the SC. None of this would have been possible without the stupendous effort of the IT team."
Justice Shakdher also recognised contrubution made by the erstwhile members of the IT committee including Justice Navin Chawla, Justice Prathiba M Singh and others. He says that the efforts should be continued by the younger members of the bar.
"The software application is a small and significant step in enhancing the digitisation. Even though we have 11 districts we did more vc's as compared to other presidency courts ( which started during covid)," said Justice Rajeev Shakdher chairman of Delhi HC IT committee.
"From now sitting at home you can easily inspect a digitised file. You have the added advantage of storing the file and using it whatever you want. We will now literally on the same page. We have on the anvil live streaming apparatus."
CJI Chandrachud has innaugrated the software facility for online e-inspection in Delhi High Court.


A 6,629 page chargesheet has been filed in the Shraddha Walkar murder case. Statements of more than 150 witnesses have been recorded in the chargesheet.
Aftaab Poonawaala, the accused in the case, allegedly killed Walkar on May 18th after a fight broke out between the couple over Walkar meeting an old friend. Police said 'fit of rage' has been recorded as the motive.
Police said the multiple tests – narco analysis, layrered voice analysis and poly test are "in line with the investigation" and the results led them to several recoveries in the case.
Police have recovered some of the weapons that were used during the murder.
CJI D Y Chandrachud arrives at the Delhi HC event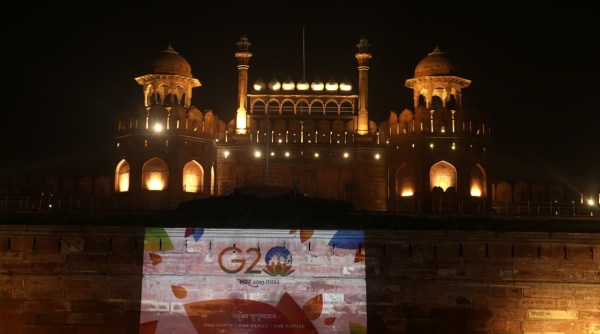 India took over presidency last December. Archive
In the run-up to the G20 summit in the national capital in September, the Delhi Police is holding weekly meetings and discussing, among other things, ways to handle any disruptions in the form of agitations or protests that might cause law-and-order problems to scheduled events, senior officers said.
A senior officer privy to the discussion said: "The meetings include officers from the Special Cell, Intelligence Bureau and Security department who are analysing any possible disruptions or protests that might occur during the time… ways to quickly curb and handle such occurrences are being discussed."
The officer added that for this purpose, security deployment in New Delhi district will be strengthened and paramilitary forces will be deployed along with batches of several sniffer dogs around high-security areas, including at Jantar Mantar, to manage such incidents. "Any social media post with potential to cause law-and-order problems will also be appropriately identified," he added.
The Jawaharlal Nehru University administration Monday barred the JNU students' union from screening on campus the BBC documentary titled 'India: The Modi Question.'
Earlier in the day, the JNUSU had released a pamphlet inviting students to the screening of the documentary, which has been blocked in India, on Tuesday at 9 pm at the union's office.
The university administration, in a statement, said: "No prior permission for this event has been taken from the JNU administration. This is to emphasise that such an unauthorised activity may disturb peace and harmony of the university campus. The concerned students/individuals are firmly advised to cancel the proposed programme immediately failing which strict disciplinary action may be initiated as per university rules."